This cover opens to reveal the dinner menu for Friday, March 1, 1901, on board the world's first purpose-built cruise ship, the German yacht Prinzessin Victoria Luise. The generic lithograph on the cover doesn't depict the princess, but she was a pretty boat indeed. Here is the way Michael Zeno Diemer, the Oberammergau portraitist of ships and zeppelins, imagined her as those who bought their passages in her must have felt she deserved to be imagined. When we are on board, of course, imagination is the only way we have of seeing the vessel that bears us.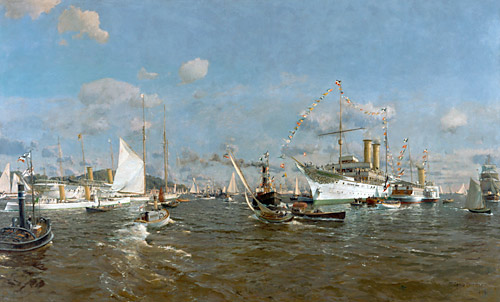 But in the physical, outside the realm of imagination, we at least can see what is physical of ourselves, and try to make those images approximate themselves to the beautifully comprehended images that we imagine. Our dinner on March 1, 1901, would have included turtle ragout and strawberry ice cream, followed by music of Wagner, Bizet, and John Philip Sousa. So perhaps, after that experiment on the senses, we might have gone sightseeing on deck, in the dark.
You see how we have posed ourselves there. One of us is languidly reclined in spotless spats. Another has painted himself into an icon of energetic masculinity with cap and cape and mustache wax. A third has contracted to something feminine, hugging herself deep inside a shawl. Our bodies and their impelling forces differ, but when they're on deck together they communicate in a mutually understood body language. Behind us, a huge machinery emitting smoke and green light propels its boatload of bodies, signaling to all destinations that we haven't yet arrived. We won't shut down at sunrise, because the sense of sunrise has been postponed. We'll still be talking when the day dawns on March 2. Silently, without any need for words, our clothes and their bodies will have promised us, that night on deck, that we'll never die.
—
Launched in 1900, Prinzessin Victoria Luise was wrecked in the Caribbean just six years afterward, a casualty of navigation error. Her captain saw all his passengers safely off, then killed himself.
https://en.wikipedia.org/wiki/Prinzessin_Victoria_Luise
But for these voyagers transported by the princess through 1901, 1901 is visibly forever. You see that in the remaining record before you. In their lithographer's presence, the voyagers within the princess became a smiling history of confidence in the everlastingness of dark.